Even a broken clock
Posted on August 28th, 2017
Occasionally I have a good idea. I know this because instead of hearing, "Huh?" or "Nah" someone says, "Hey, that's a good idea." And I look astonished and spend the next day patting myself on the back. In fact, in this case, three someones said "Good idea." (My husband, daughter, and brother: definitely not a combo that normally agrees.) I'm nigh near insufferably smug right now.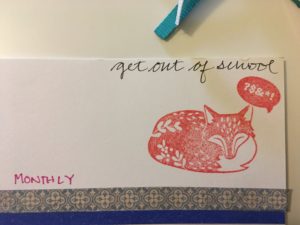 It's about my get out of jail school free card idea. Instead of drama about "please can I take the day off?" in the midst of some new math concept, which was driving me freaking insane frustrating, now we have clear expectations. There are three get out of school cards. One is mine, one is pH's, and the third requires consensus. They may not be used mid-lesson. (They may be used after the lesson, but I pointed out how sad it would be to waste one on a half-day–we'll see how that goes.) Ideally, they're used the night before or the morning of "get out of school" day.
Naturally, we had to decorate them. Bindewerk paper + god awful amount of washi + stamps= really unattractive cards. But it was fun.
Updates to older posts:
Car was broken into. Again. I spent a lot of time doing my emergency planning and some jackass stole the LEAF's kit. I now keep my keys in a Faraday cage at night. If you have one of those proximity key fob thingies, I highly recommend it.
I am getting better at electric car driving, but going up a hill is enough to reduce me to near-tears when I see the miles dropping.
Dead body found near house; not sure how the person was killed. I'm starting to wonder if I can swing a Malinois "anxiety dog."  It would definitely ease my anxiety.
kH is enjoying his new job; it will be months before our finances are normal, and our healthcare is awful and expensive–just hoping we don't get sick–but at least we have it. Now to pay off debts and resurrect the tiny house fund.